SPECIAL COLLECTIONS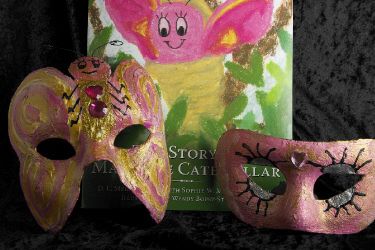 Mary the Caterpillar Series:  
This set of masks was created for the book 
The Story of Mary the Caterpillar
, in which an intrepid little caterpillar climbs to the top of the highest tree in the meadow and becomes a beautiful butterfly.  You can find out more about the book at MarytheCaterpillar.  The masks are designed to be used by a class or a drama group as a play.  The masks are shown in the slide show below; click on the first slide to enlarge the photos.   The set shown is in a private collection; contact SelkieMasks.com to commission mask sets for this or other productions.
Fire on the River Series: These masks are made especially for Natchitoches, LA, in honor of the Christmas Festival of Lights (christmasfestival.com). The 45 Nights of Christmas, along the Cane River, including fireworks, is in its 84th year.

Mardi Gras Sets:
DRAMA MASKS: ANTIGONE
MASKS FOR MARIA: These silver and black masks with fused glass pieces by Dianne Harris (Taos, New Mexico) were made especially for Maria.